Sponsored by The Company Store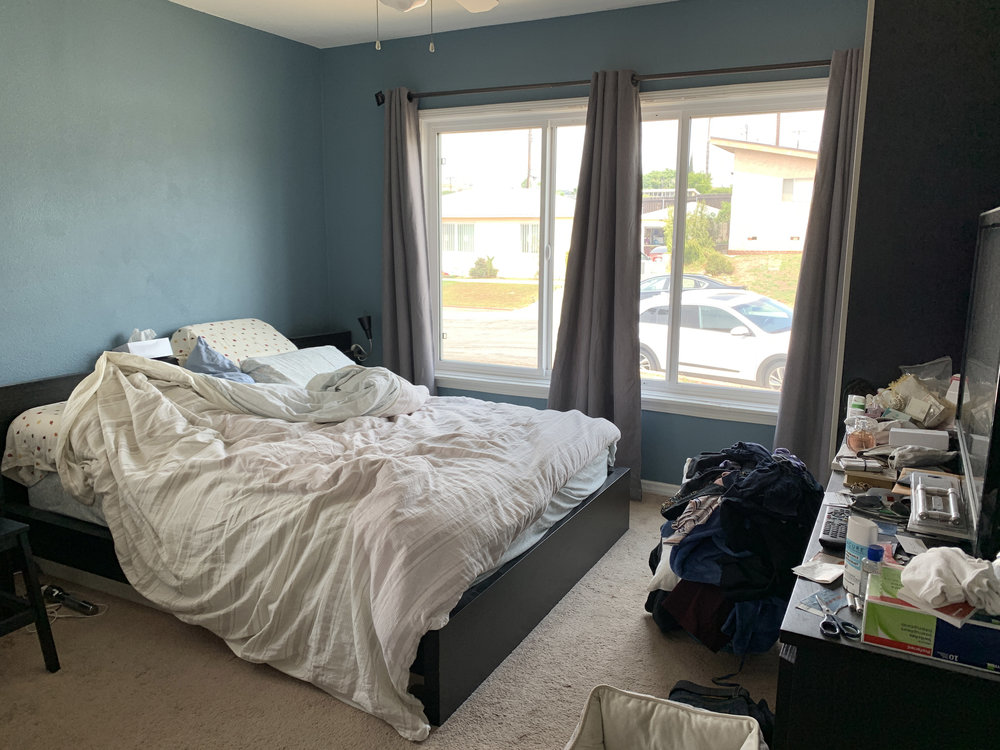 We have a fun bedroom transformation for y'all this week! We are heading over to one of my best friends' homes. I've known Anna since second grade so she's like family to me. A few weeks back, Anna and her husband invited us over for brunch. I haven't been to their home in probably more than five years so a lot has changed. And when I say change, I ain't talking about some major fab renovations. We walked into a hot mess. They've accumulated a lot of stuff over the years and was running out of space in their home. It reminded me of my mom's place. This is clearly something that affects a lot of us, and not just our parents.
Anna and her husband mentioned that they're ready to start a family. So I was like, y'all need to make some room for a baby! And before making room for a baby, y'all need a sweet space for some babymaking magic. Am I right? You feel me? So we decided to help makeover their bedroom! Here are some before photos and I'm throwing in a shot of their living room to give you an idea.
For their bedroom, Anna and her husband wanted soft and neutral colors. Nothing too colorful, even though they love all my colorful spaces. Their ceiling fan and TV stays. They want a very relaxed, modern contemporary vibe. Easy peasy! For their bedroom, we drew inspiration from Hawaii's calm beaches since Anna and her husband got married there. They also go back every year to celebrate their anniversary. The colors for this bedroom are sand, tans, and crystal clear ocean blue with hints of green and pink, like these photos I took during their wedding.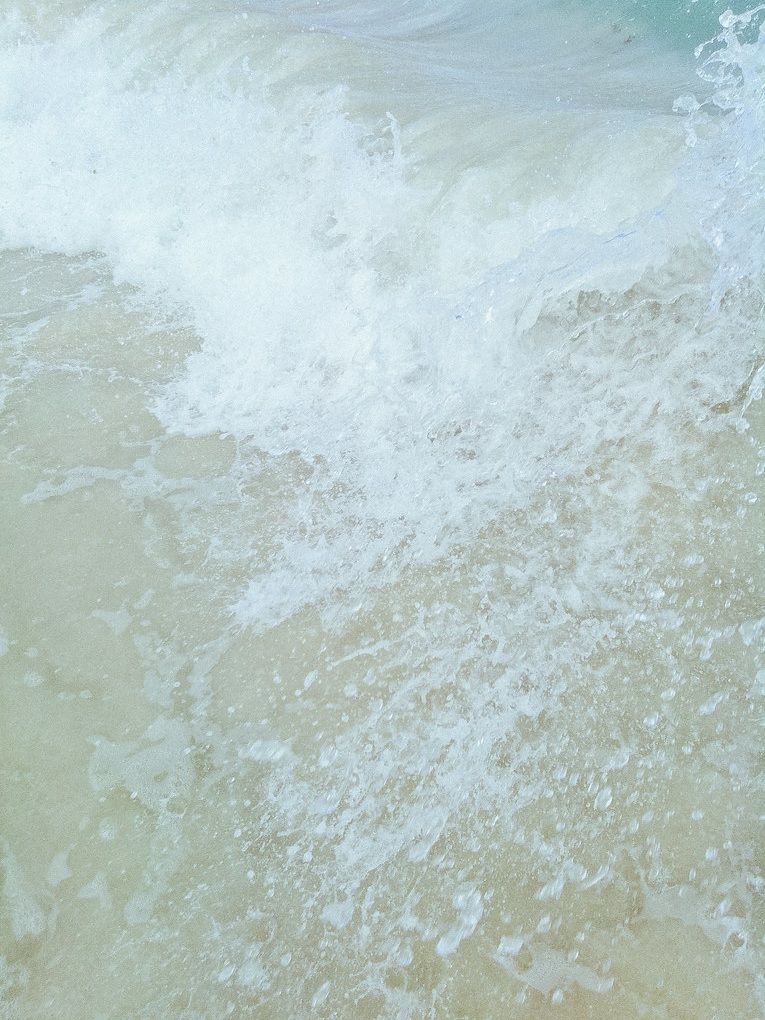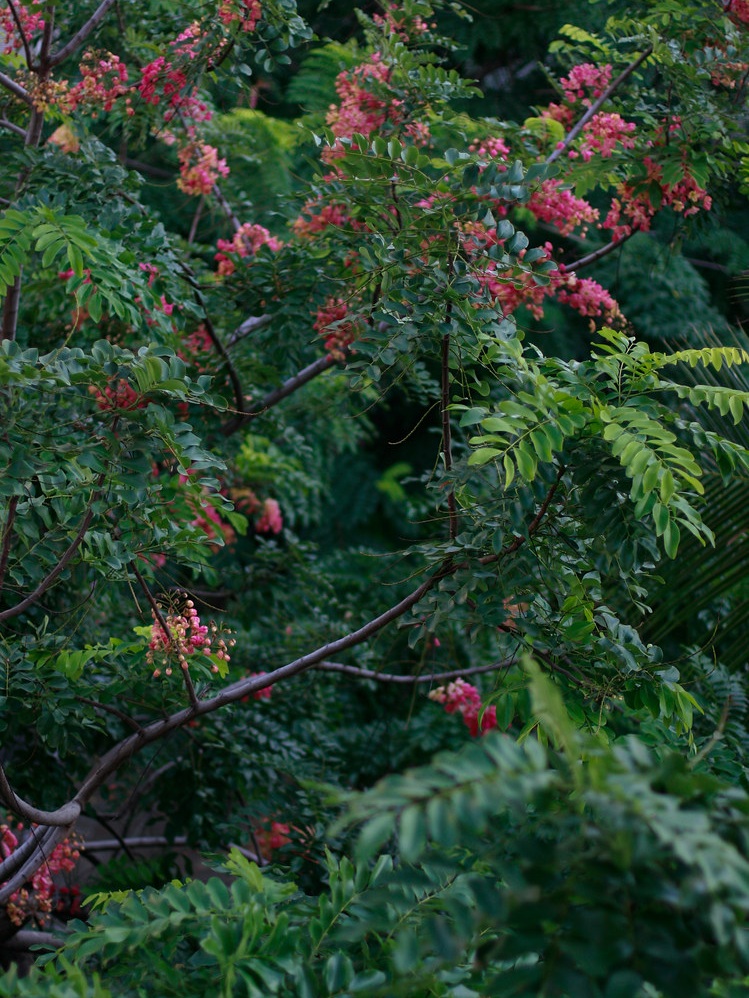 YAAAS! This is their new bedroom!
This is an important and intimate space for a couple. It should be relaxing, comfortable, and sensual. First, I urged them to purge as much as possible. We got rid of some of their bulky pieces. It becomes an issue when things begin to own you, dictate your choices, and start to weigh your life down. That's when you have to learn to let go of things. We can't hold onto everything forever, even if it sparks a bit of joy. Then, we moved everything into their guest room and gave the room a fresh coat of white paint. The blue wasn't bad before but I wanted to brighten it up. Next, I convinced them to upgrade to a king-size memory foam mattress. They both like to twirl and twerk in their sleep so they really need the extra 16" of space to perform their nocturnal dances. Ha! We kept the bed in the same spot because it was the best layout for this space.
And now let's talk about bedding. We donated all their frumpy dumpy pillows and blankets. The Company Store hooked us up with timeless, luxurious bedding. I picked out their best down pillows (two king and three standard pillows in extra firm). We went with my fail-proof white linen bedding as a base (fitted and flat sheets with duvet cover). For accents, we layered this ivory, sand colored coverlet to give it a soft contrast. I love the printed geometric borders and jacquard-woven detail. And it's reversible! I might have to get this for myself. And to top it off, I tossed in a sage linen throw pillow. Are you feeling the beach vibes? You can totally do beach without looking nautical.
Even their pup, Hachi is digging their new bedroom!
We decided to hang one plug-in wall sconce because that side of the bed didn't have as much room for a larger nightstand. I've used it in three makeovers already. I love it! The tan leather headboard was super easy to install. You basically just screw and hang it on the wall. It's great for small spaces. Their bedroom is actually super bright with those big windows. But they were entirely blocked out before with dark blackout curtains, so we replaced them with white blinds.
We grounded the space with a patternful Cielo rug. We put two ottomans with storage at the foot of the bed so they can put clothes in them that are still wearable, like home/bed clothes. I don't know about you but I always change to home clothes when I get home. We also updated the ceiling fan. This might be one of the most neutral looking rooms I've ever done and I love it. But most importantly, Anna and her husband are really happy with how it turned out. And this has inspired them to work on their other rooms. Yay!
So there you have it! Thank you to The Company Store for helping us transform another space with beautiful bedding. They're having a Memorial Day Weekend sale right now with 20% off sitewide + free shipping with code MDWKD19. Head on over to get your bedding on!
Get The Look
Linen BeddingBest Down PillowsWander Reversible CoverletLinen PillowMemory Foam MattressLeather HeadboardCielo Rug
Nightstand Marble Accent TablePlug-in SconceCeramic LampOttoman with StorageArtworkCeiling Fan
Read more: oldbrandnew.com