It seems like open-source CRM software is a dime-a-dozen these days. For good reason, though. Everyone needs a good CRM, and many of the premium platforms are cost-prohibitive for smaller businesses who need the more advanced features. So open source is definitely a way to address that issue. SuiteCRM is open-source and free to download and use, but also offers a hosted service where businesses and teams who don't want to take on the more technical aspects of CRM hosting can get a premium experience at an affordable price. But is it as good as the major, premium platforms? Let's take a look and see.
SuiteCRM: Hosted or Self-Hosted?
The real kicker is that if you want to use SuiteCRM as free software, you'll want to download and install it yourself. You won't be installing it and running it on your local machine, but instead on a webhost that you have SSH and root permissions to. Digital Ocean Droplets are ideal for this sort of project. The downloads page for SuiteCRM has incredibly detailed installation instructions for your free, self-hosted installation.
If you're not sure which is the better option, sign up for the demo they provide. That way, you can go in and experience it with full data and projects created. They have an open installation that clears data every hour (for security) that anyone can request access to and test out. You can also get a free trial of their premium hosted plans, if you want to go ahead and try it with your own information.
The interface and features of the free version and hosted versions are in parity. You won't find anything in the hosted version that isn't available in the free one that you host. Updates roll out to the software at the same time, though with the free, self-hosted one, you're responsible for keeping track of that sort of maintenance (obviously).
Either way, let's dig in and take a look at the features that make SuiteCRM work.
The Dashboard
The dashboard for SuiteCRM looks like most other CRM software. But in a lot of ways, it's easier to use. A lot of the other platforms tend to either break the info down into so many individual sections that the data blurs together or spreads the information out that it's hard to get a top-down look of where your project and business stand at any given moment. SuiteCRM gives a middle ground to these ends of the spectrum, showing you a lot of information at once, but keeping it so that you can scan through the data quickly navigate where you need to go.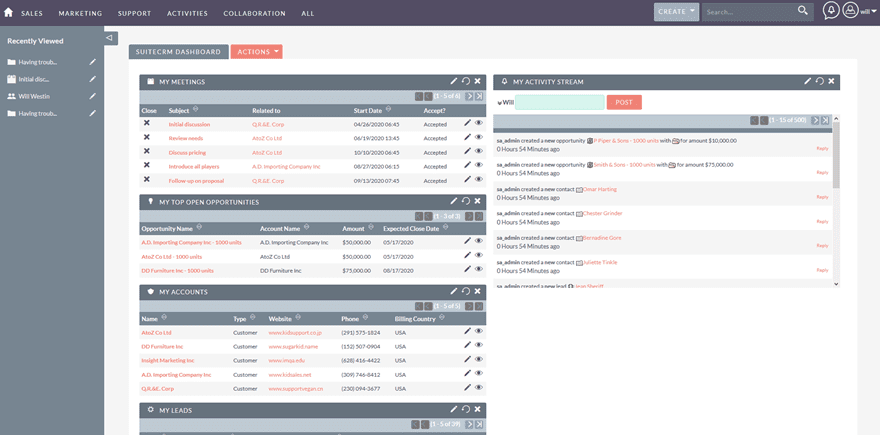 Administrators can customize this dashboard to their needs, too. Simply click the Actions tab at the top of the page and select what information you want displayed. You have three options.
Add Dashlets
Add Tab
Edit Tabs

Dashlets are what SuiteCRM considers the boxes displayed in the dashboard. So when you add them in, you choose between various charts, data points, and tools. Add calendars, ROI estimations, assigned bugs for software development, document libraries, invoices, leads, contracts, and so on.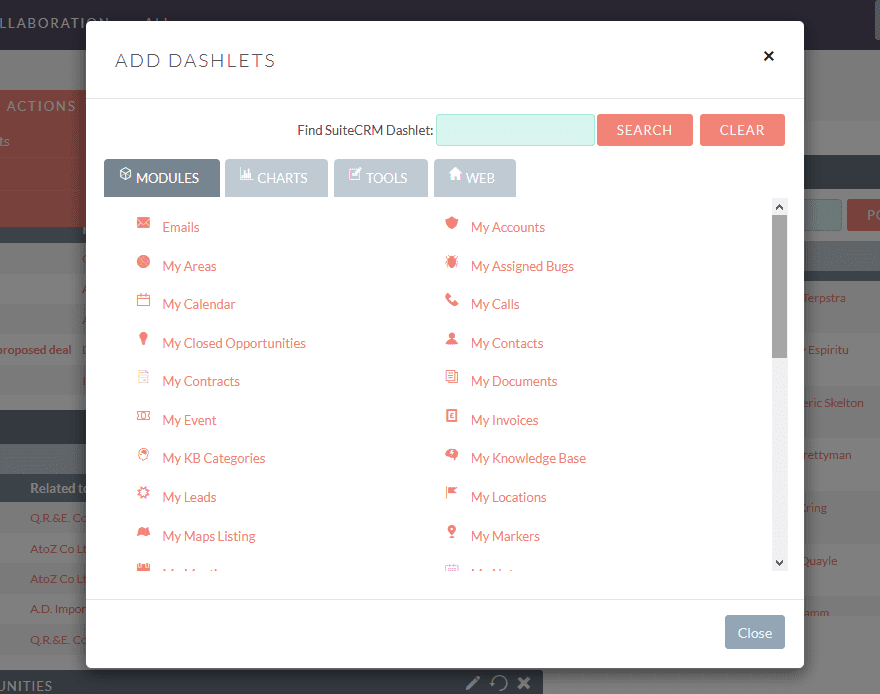 The Add/Edit Tab options are slightly misleading. You're adding tabs to the dashboard, yes, but you aren't simply adding a tab for a new tool. You're essentially adding a secondary (or further) dashboard. You can easily keep tabs available for your marketing team, as well as your content, dev, and design teams. Each team would have their own separate workspace, but have access to any cross-company data they need to function and do their best jobs.
Jack of All Trades, Master of…?
SuiteCRM has a lot going on. In fact, the website offers a slew of options and configurations for a number of disparate industries, roles, and business types. SuiteCRM proposes itself to everything from startups to nonprofits. The finance sector to travel and hospitality. And it has tools to cover sales, marketing, customer service, and IT.
Taken directly from the SuiteCRM dashboard menu, this is everything you can access through the platform, for all roles and departments:
Accounts
Contacts
Opportunities
Leads
Quotes
Calendar
Documents
Emails
Spots
Campaigns
Calls
Meetings
Tasks
Notes
Invoices
Contracts
Cases
Targets
Targets – Lists
Projects
Projects – Templates
Events
Locations
Products
Products – Categories
PDF – Templates
Map
Map Markers
Maps – Areas
Maps – Address Cache
Reports
Workflow
Knowledge Base
KB – Categories
Email – Templates
Surveys
Is all of that too good to be true? Can a piece of open-source software (read: free), really provide all of that, while still keeping the quality and efficiency you need from customer relation management software?
In a Word: Yeah
Read more: elegantthemes.com