Kourtney Kardashian brings home the bacon!
On Sunday, the KUWTK star shared the (above) pic of her and seven-year-old daughter, Penelope Disick, from their trip to Idaho.
Related: Kourtney Kardashian's Almond Milk Recipe Is Easy AF To Make!
However, in the comments section, one fan accused the mother-of-three of not working.
Before heading to the northwestern state, the 40-year-old and her kids — including 9-year-old Mason and 4-year-old Reign — were in Italy in conjunction with Kylie Jenner's 22nd birthday.
The social media user wrote:
"Kourtney this is why ppl say u don't work girl"
While referencing her lifestyle website Poosh, the reality TV personality clapped back by penning:
"We all have our priorities. So I'll be making memories with my kids and amazing people while living my life to the absolute fullest. Travel diary coming soon on @poosh."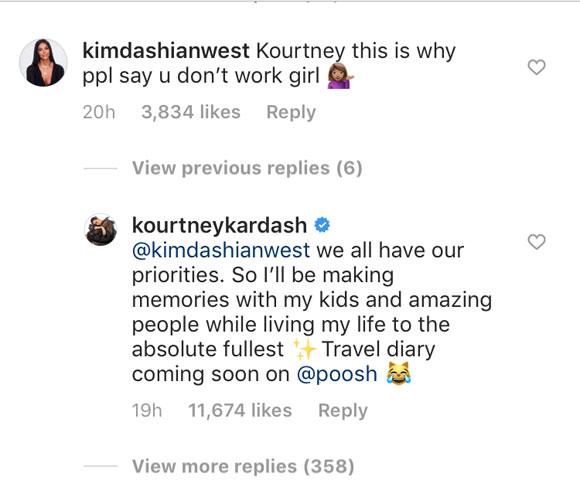 Kourtney Kardashian claps back! / (c) Kourtney Kardashian/Instagram
Additionally, after one person praised Kardashian for being a "dedicated mom," a different critic suggested Kourtney was not a "working mom."
In response to that, Scott Disick's ex wrote back:
"Who says I am not a working mom? Because I most definitely am. Working moms can be dedicated, of course. As women, we should be supporting each other for what allows us to be our best, not being so critical and judgmental of each other. We all do things our own way."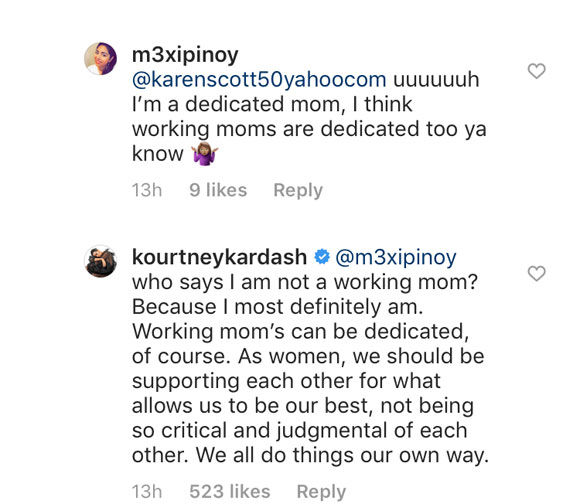 Kourtney Kardashian IS a "working mom"! / (c) Kourtney Kardashian/Instagram
As we reported, in an interview with Glamour posted last week, Kourtney revealed she felt pressured to "figure out" her "passion by a certain time" — amid her sisters' successful solo projects.
She dished:
"We used to do all of our projects together, so when we started splitting up and doing our own, I think I felt like, 'Well what's my thing?'… Everybody would put this pressure on me, even though I really just wanted to focus on being a mom. I didn't want to take on something else. But once I really took the time to do it, once I figured out when the time was right for me—and that it really fit into my life without overwhelming me—then it became fulfilling."
Fortunately, in April, she launched her publication — named after daughter Penelope.
"My mom always tells me to really do something you love so that it doesn't feel like work… I think this is one of the most fulfilling things I've done."
In regards to why she started the site, the social media personality divulged:
"I just wanted to have a space where I could open up a conversation—where instead of being judgmental or being like, 'This is the way and that's it,' the site offers things to learn about… I've learned so much from starting Poosh, even on topics that I may have wanted to know about but didn't have the time to research. We're finding out so much and are able to share that… I find them really fascinating."
Keep up the good work, Kourt!
[Image via Kourtney Kardashian/Instagram.]
The post Kourtney Kardashian Claps Back After Fan Says She Doesn't Work! appeared first on Perez Hilton.
Read more: perezhilton.com